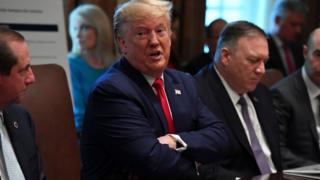 US President Donald Trump has called the congressional impeachment investigation that may seek to remove him from office "a lynching".
In a tweet Mr Trump condemned the inquiry as "without due process or fairness or any legal rights".
Democrats may seek to impeach the Republican president by Christmas.
A racially loaded term in the US, lynching refers to historic extrajudicial executions by white mobs against mainly African Americans.
https://www.bbc.co.uk/news/world-us-canada-50142172