Throughout history, women have faced a lot of hardships. Despite all the discrimination and harmful stereotypes, they still come out of it more powerful and ready to fight for their freedom. These strong women quotes will remind you how much female empowerment matters in everyday life.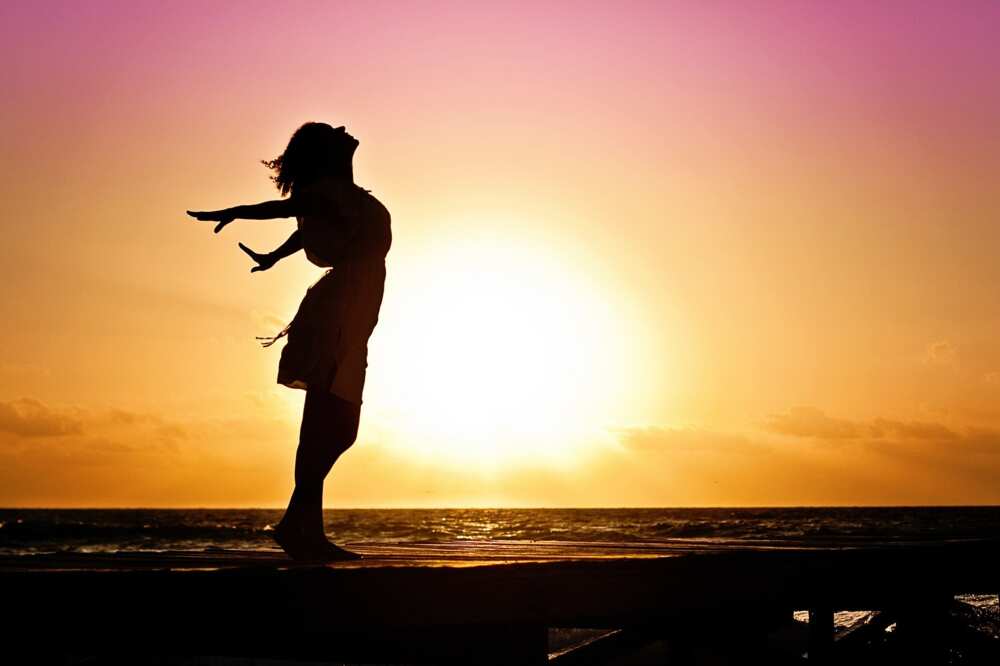 Female encouragement is extremely significant for every lady out there. Everyone needs to hear words of inspiration from time to time. This is why these quotes for strong women will spark courage and willpower inside you.
Strong women quotes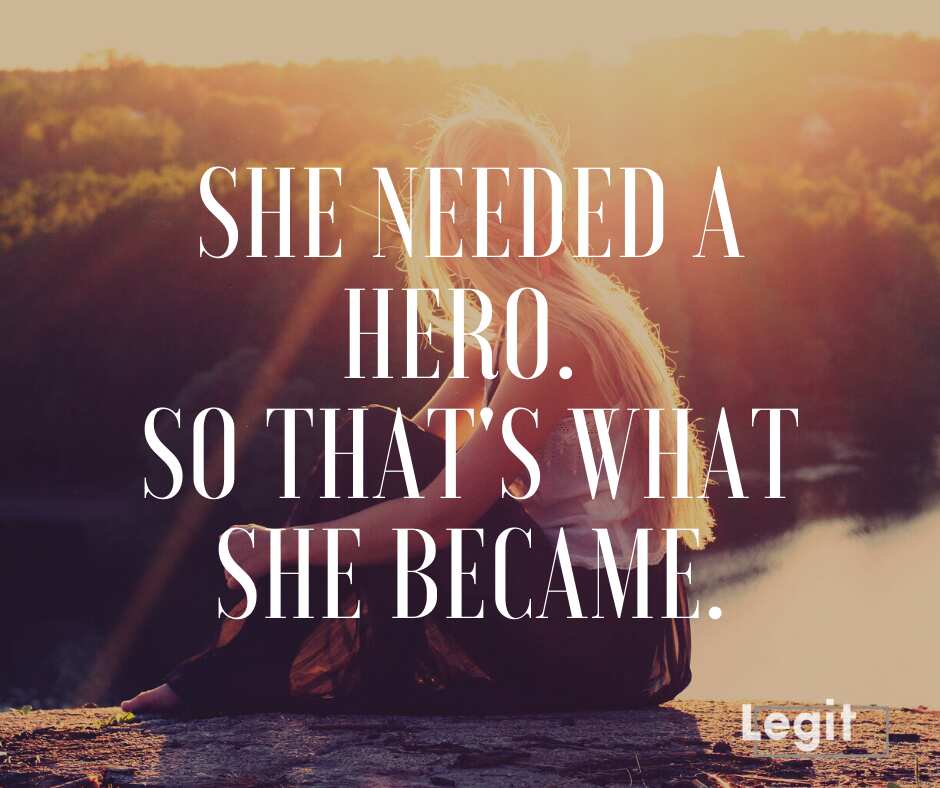 These quotes about strong women will remind you of your inner power and everything you are capable of;
"Behind every successful woman is someone who believes in her, who has the confidence that she can achieve her dreams. That person is herself." – Unknown
You should never rely on a man or anyone else to validate you, your confidence, and your dreams. It is your job.
"She was a wild one, always stomping on eggshells that everyone else tip-toed on." – Kaitlin Foster
Only those who are not afraid to voice their opinion can change our world.
"She needed a hero. So that's what she became." – Unknown
In many pieces of literature, a girl needs a male hero. However, she can be this hero for herself without relying on anyone.
"I am not someone who can be controlled. I want someone who will watch me do my thing and be like, 'that's my girl'." – Unknown
Healthy relationships are not supposed to be based on control and restrictions. Their basis should be mutual support and encouragement.
"She is water. Strong enough to drown you, soft enough to cleanse you, and deep enough to save you." – Unknown
Water is one of the strongest forces, and so are you.
"There's fire in her. If loved correctly, she will warm your entire home. If abused, she will burn it down." – Unknown
A strong female knows her worth. She knows that she is worth loving.
"If my strength intimidates you, I hope you realize that's a weakness of yours." – Unknown
Normally, those who want to bring a powerful lady down are secretly afraid of her.
"She would rather walk alone in darkness than follow anyone else's shadow." – R. G. Moon
Paving your own way is more beneficial than following the crowd.
"She may be broken for a while, but that's ok. She's working on her, cause she's not one to leave a mess lying around." – JmStorm
Rising from every failure and being able to move on is important when training yourself to be powerful.
"What made her strong was despite the million things that hurt her, she spoke of nothing. Nothing but happiness." – J. A.
No matter what happens, focusing on the bright side and being optimistic will make it better.
Inspirational quotes for strong women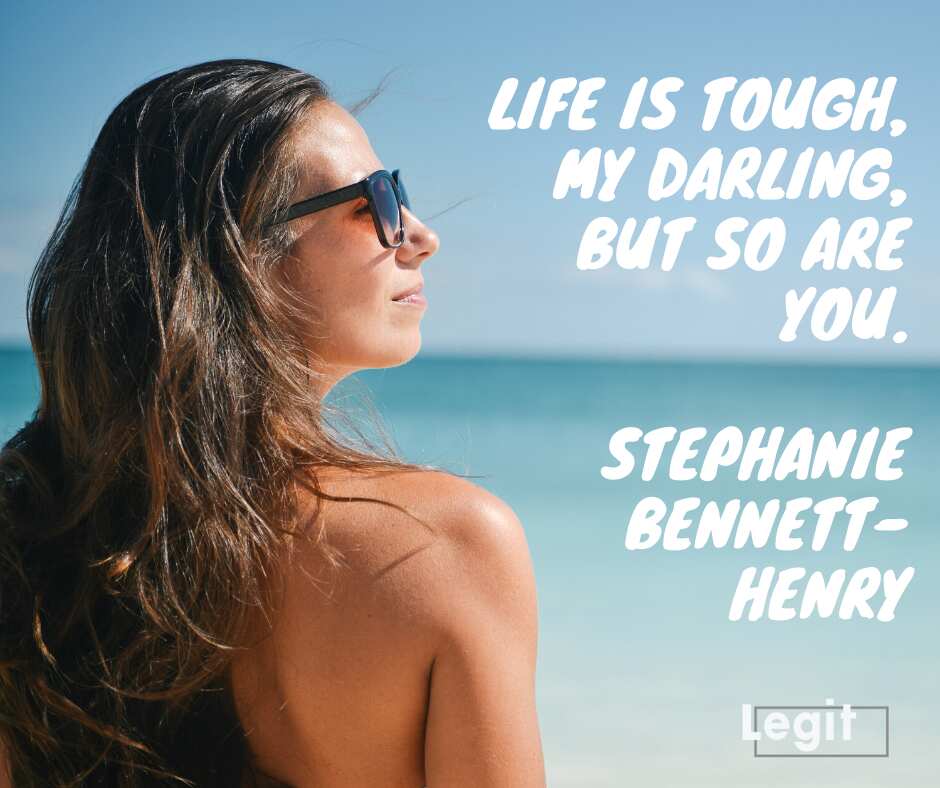 Sometimes ladies forget how much potential there is inside them. These quotes on strong women are designed to help them believe in themselves.
"Above all, be the heroine of your life, not the victim." – Nora Ephron
Having a victim mentality always puts you in a weaker position.
"You had the power all along, my dear." – Glinda the Good Witch, The Wizard of Oz by L. Frank Baum
This is one of those quotes strong women which is a classic tale that teaches us that each one of us has inner power, even if we are not aware of how to use it.
"You're not too fat. You're not too loud. You're not too smart. You're not unladylike. There is nothing wrong with you." – Jessica Valenti
For centuries, ladies have been brought down for many reasons. Unfortunately, judgment against them still exists. This quote reminds every female that they should not listen to the mean critics.
"Stop waiting to find the light at the end of the tunnel and be the light for yourself." – Unknown
This beautiful quote indicates how important self-love is for every person.
"You are allowed to cry, but never allow yourself to give up." – Unknown
Crying is not a sign of weakness, but giving up is.
"Life is tough, my darling, but so are you." – Stephanie Bennett-Henry
Everyone says that life is tough, but they fail to mention that there is equal strength in every person, the one that helps them withstand every difficulty.
"Think like a queen. A queen is not afraid to fail. Failure is another stepping stone to greatness." – Unknown
Each woman is royal. She is a queen who bounces back after a fall.
"I figure, if a girl wants to be a legend, she should go ahead and be one." – Calamity Jane
No one should tell a girl that she is unable to do something. And if someone does, it should inspire her even more.
"You must know that you can do this. You are strong. You will make it. Just hang on and keep believing in yourself, always." – Heather A. Stillufsen
Every lady needs to hear words of encouragement from time to time.
"Never apologize for being sensitive or emotional. Let this be a sign that you've got a big heart and aren't afraid to let others see it. Showing your emotions is a sign of strength." – Brigitte Nicole
The most sensitive and emotional people are the ones who care about others the most and are not afraid of showing that they have a heart of gold.
Quotes about strong black women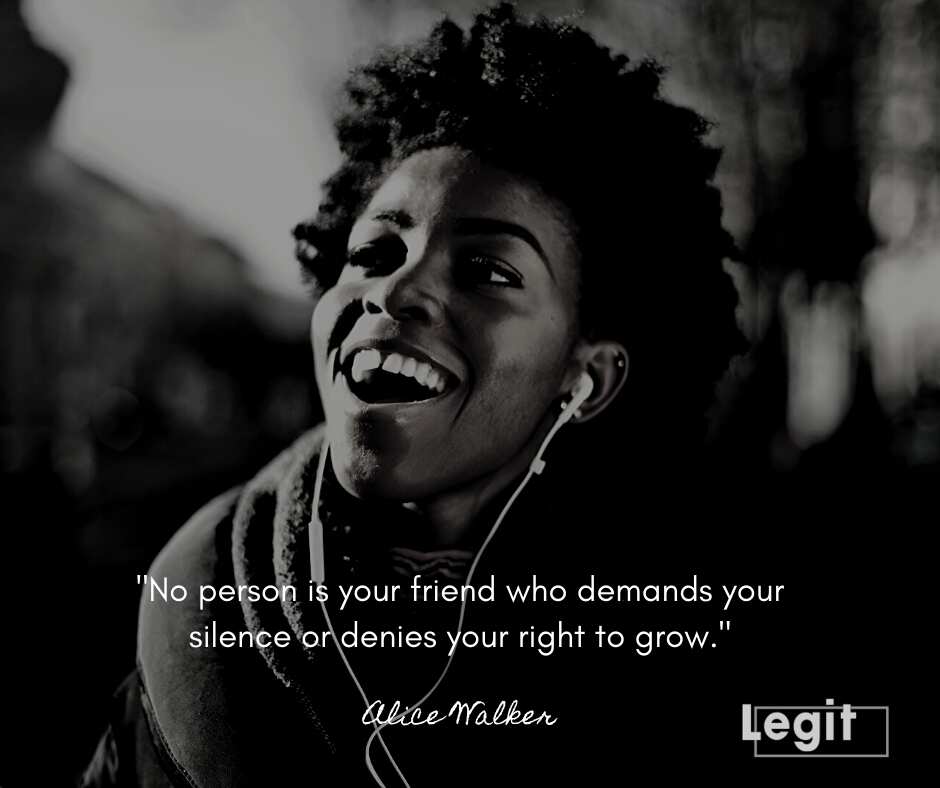 Black ladies often have it harder than everyone else due to the colour of their skin. Racism and discrimination should not be condoned in the modern age. Black ladies are just as powerful and confident as other women are. Sometimes, they need some strong willed women quotes to inspire them.
"She's a strong cup of black coffee in a world that is drunk on the cheap wine of shallow love." – Unknown
This is a beautiful comparison that indicates how unique people with inner confidence and power are in this world.
"Sometimes, I feel discriminated against, but it does not make me angry. It merely astonishes me. How can any deny themselves the pleasure of my company? It's beyond me." – Zora Neale Hurston
This saying can be very uplifting to black girls and help them understand that if anyone discriminates against them, it is not their problem.
"No person is your friend who demands your silence or denies your right to grow." – Alice Walker
People who diminish you or make you feel inferior are not the kind of people that you should surround yourself with.
"Deal with yourself as an individual worthy of respect, and make everyone else deal with you the same way." – Nikki Giovanni
Respecting yourself is the first step on the way to getting everyone else's respect.
"Self-esteem means knowing you are the dream." – Oprah Winfrey
When you know that you are an amazing person who deserves the world, other people will soon start noticing it too.
"I was built this way for a reason, so I'm going to use it." – Simone Biles
God creates us the way we are for a reason, and we should never be ashamed of who we are.
"One of the lessons that I grew up with was to always stay true to yourself and never let what somebody else says distract you from your goals." – Michelle Obama
The former First Lady of the United States does not care about any hateful opinions and does not give them her time of day- so should you.
"Even if it makes others uncomfortable, I will love who I am." – Janelle Monáe
Self-love might make insecure people uncomfortable, but you should still practice it.
"Take responsibility for yourself because no one's going to take responsibility for you. I'm not a victim. I grow from this, and I learn." – Tyra Banks
Getting help from other people is fine, but relying on them to solve your problems is not acceptable, because no one is going to take better care of you than yourself.
"Whatever someone did to you in the past has no power over the present. Only you give it power." – Oprah Winfrey
Even if bad things happened to you in the past that have shaken up your self-confidence, it is in your power to rise above them and shape yourself into the person you wish to be.
Quotes by strong women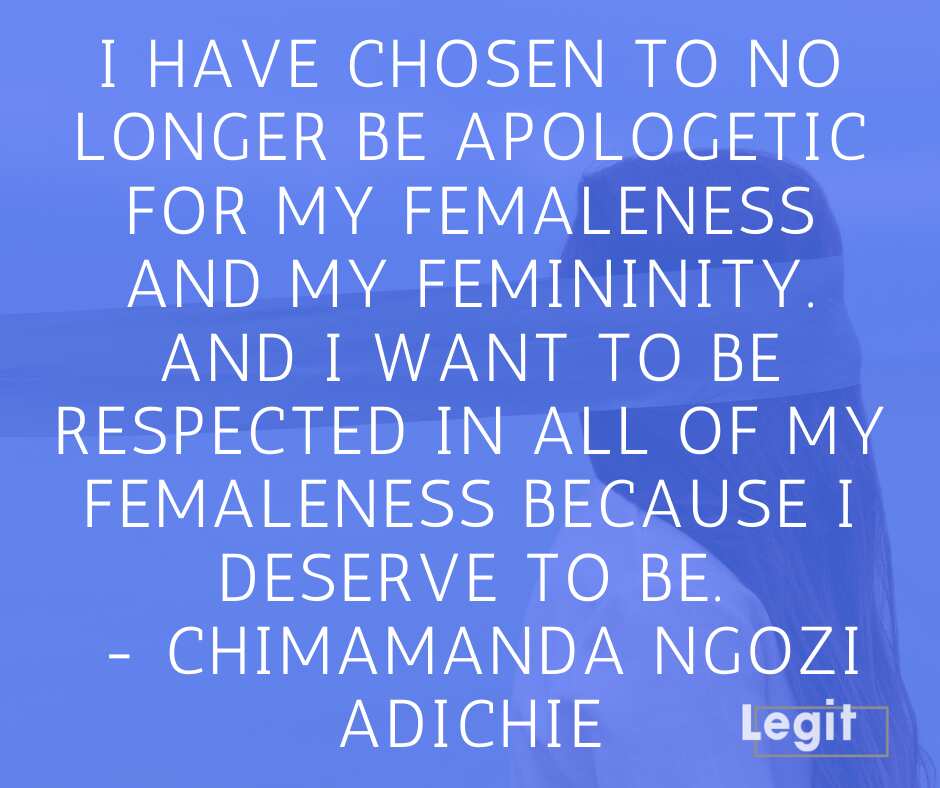 The following quotes were said by famous female musicians, actresses, writers, and other well-known figures who have been through a lot in their life. You can get encouraged by these quotes from strong women.
"I have chosen to no longer be apologetic for my femaleness and my femininity. And I want to be respected in all of my femaleness because I deserve to be." – Chimamanda Ngozi Adichie
Femininity is not a sign of weakness. It is something that was given to us from above, and we should be proud of it.
"Once you figure out what respect tastes like, it tastes better than attention." – Pink
The famous singer, who went through multiple difficulties to share her music with the world, shares her opinion on respect.
"I don't care what you think about me. I don't think about you at all." – Coco Chanel
This is one of the well-known quotes from the iconic designer who was certain that the opinions of haters should not be taken into account.
"Girls should never be afraid to be smart." – Emma Watson
Emma Watson, who played the smart and educated witch Hermione in Harry Potter movies, fully emulates her heroine character and wishes more girls could be proud of their smartness.
"Be a first-rate version of yourself, not a second-rate version of someone else." – Judy Garland
You are the only version of yourself, so rock it with pride and do not worry about being someone else.
"Doubt is a killer. You just have to know who you are and what you stand for." – Jennifer Lopez
Very often, doubt kills great ideas. Do not let it get to you. You are enough and you can do it!
"Storms make trees take deeper roots." – Dolly Parton
Dolly Parton chooses a beautiful way to say that every difficulty makes us stronger.
"As for my girls, I'll raise them to think they breathe fire." – Jessica Kirkland
Raising young girls with encouragement is important in order to have a powerful next generation of determined females.
"I wanted to show that women are empowered and strong, and don't have to be saved by some male hero, but they can take care of themselves using their intelligence and their power." – Gal Gadot
The "Wonder Woman" star knows that her role is very significant for modern feminism. She shows us that girls can be amazing heroes.
"It isn't what we say or think that defines us, but what we do." – Jane Austen, "Sense and Sensibility"
Our actions always define us the most, as opposed to words and thoughts.
Hopefully, these strong women quotes ignited a fire inside your heart and made you feel like you are capable of great things. Go forth and pursue your goals and dreams, with the confidence that you can do it.
[embedded content]
https://www.legit.ng/1275629-inspirational-strong-women-quotes-for-important-women-in-your-life.html