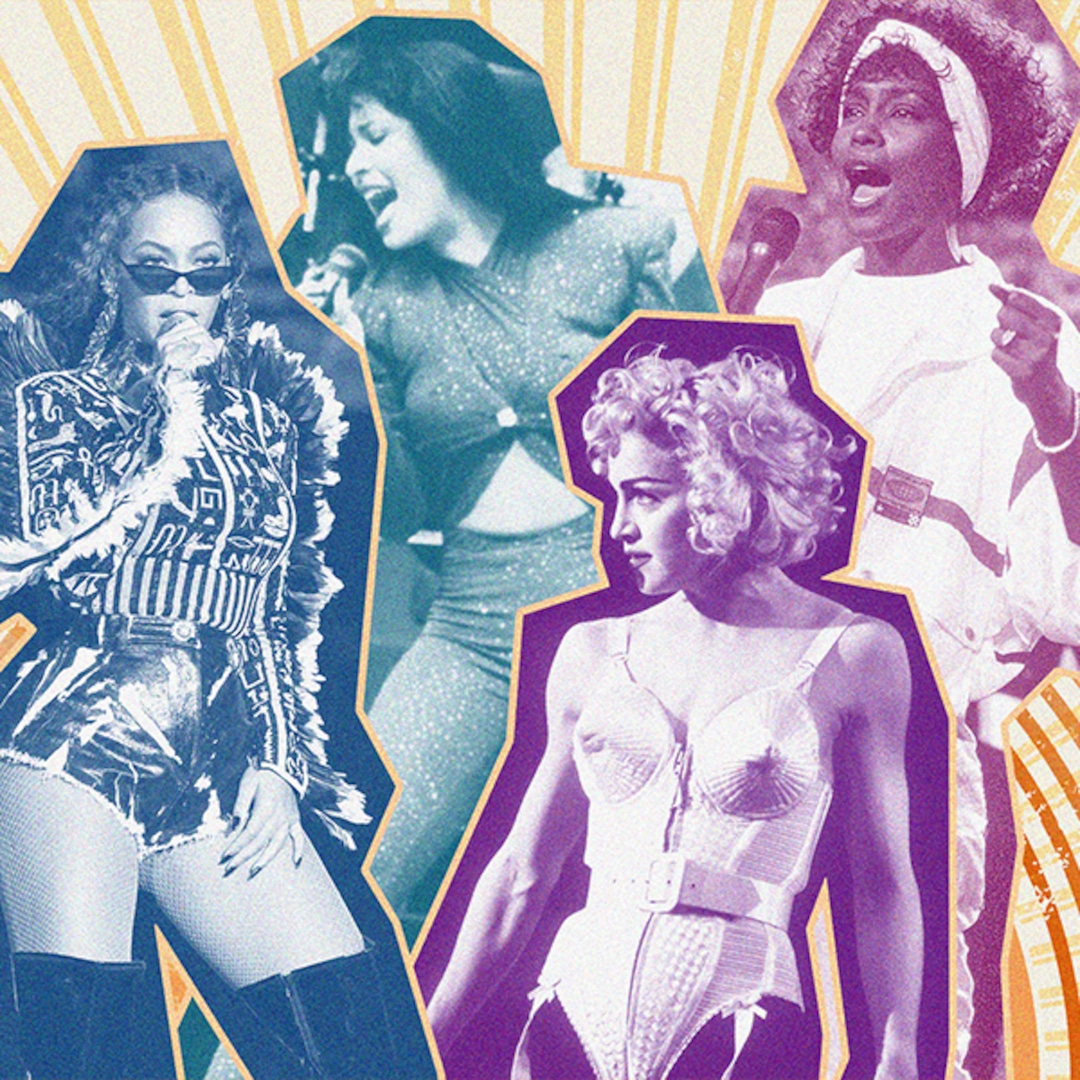 Britney, Beyonce & More Pop Divas of the 2000s: E! News Rewind
This June, E! turns 30! To celebrate we're looking back at the most monumental moments in pop culture.
How does one go about distilling three decades worth of music into a list of just 30 moments?
The short answer? You don't. At least, not easily.
Over the last 30 years in the music industry—from 1990 to today—that E!'s been covering since our debut, there's been no shortage of truly incredible sounds and even more incredible stars responsible for them. We've seen superstars like Britney Spears, Beyoncé and Jennifer Lopez rise. We've listened as genres have come and gone. (We hardly knew ye, grunge!) And one thing has always remained constant: The music has, quite literally, never stopped.
So, again, 30 years in 30 moments? A Herculean undertaking. One that naturally won't satisfy everybody, but one in which we hope tells the story of these last three decades in as thorough a way possible.
So take a walk down musical memory lane with us, won't you?
Getty Images; Alex Alonzo/E! Illustration
Madonna Strikes a Pose
It was March 27, 1990 when Madonna released the single "Vogue," a trend-setting house track that would become one of her career's highlights and have far-reaching effects on the music industry. Inspired by the New York City ballroom culture, the song introduced middle America to an underground art form created by the Big Apple's Black and Latinx LGBTQ communities. But however big the song became, it should be noted that it did little to elevate the people Madge was liberally borrowing from. It would take nearly 30 years before ballroom would truly begin to get its due thanks to TV shows like Pose, Legendary and, to a lesser degree, RuPaul's Drag Race.
Whitney's National Anthem
On January 27, 1991, during the Persian Gulf War, Whitney Houston took the field at Super Bowl XXV at Tampa Stadium to kick things off with a performance of "The Star-Spangled Banner" and delivered what would go down in history as the definitive performance of this country's national anthem. Were her vocals pre-recorded to combat the noise of the event? Sure. Did that detract from the awesomeness of the moment? Not one bit.
Grunge Goes Big
Though it emerged in the Pacific Northwest in the mid-'80s as a counterpoint to the bombastic hair bands of the decade, the alt-rock genre known as grunge exploded nationally with the release of Nirvana's Nevermind in the fall of 1991. With bands like Soundgarden, Pearl Jam and Alice in Chains helping to popularize the straightforward and decidedly lo-fi sound, the genre would go on to become the prevailing rock sound for the first half of the decade. And though it's hard to pinpoint exactly when it began to decline in prominence, Nirvana frontman Kurt Cobain's suicide in 1994 is certainly regarded as one of the catalysts.
The Super Bowl Halftime Show
It's hard to imagine a time when the Super Bowl halftime show wasn't a big deal, but once upon a time, it wasn't. What once was a wasteland of bizarre themes and snoozy marching band performances became the biggest musical performance of any given year in 1993 when Michael Jackson was hired for a headlining performance at Super Bowl XXVII. It's because of that ratings bonanza that we've been gifted unforgettable shows from the likes of Prince, Madonna, Beyoncé, Lady Gaga and, yes, MJ's sister Janet Jackson. Though the less said about that sexist boondoggle, the better.
Tim Mosenfelder/Getty Images; Jane Caine/ZUMAPRESS.com
East Coast vs. West Coast
After rap exploded with popularity in the '80s, two distinct scenes on opposite coasts began to dominate the industry in the '90s, leading to some incredible music and some bitter rivalries. Nowhere was that more apparent than the relationship between The Notorious B.I.G. (aka Biggie Smalls, aka Christopher Wallace) and Tupac Shakur. Spurred on by the feuding heads of their labels—Bad Boy and Death Row, respectively—the two expert MCs traded diss tracks that kept a growing audience riveted until, sadly, the music came to a tragic end with their murders. Shakur was gunned down in September 1996 by a still-unknown assailant, and after Wallace and his crew were considered to have been involved, he was shot and killed in a drive-by six months later.
The Jackson Two
In 1995, Michael and Janet Jackson came together for the first time for "Scream," a heavy-hitting duet written and produced alongside Janet's frequent collaborators Jimmy Jam and Terry Lewis. The corresponding video, which found the siblings alone and dancing out their anger on a space craft and was shot in black-and-white by director Mark Romanek, was said to have cost $7 million, earning it a space in the Guinness World Records as the most expensive music video ever made.
Arlene Richie/Media Sources/Media Sources/The LIFE Images Collection via Getty Images/Getty Images
The Queen of Tejano
Selena Quintanilla had already conquered the male-dominated world of Tejano music—a genre born out of a fusion of Mexican, European, and U.S. influences—by the the time she'd released of Amor Prohibido, her fourth album, in 1994. But it was that LP, which went on to become one of the best-selling Latin albums of all time in the United States, that clued label execs into just how big a previously untapped market had grown. Naturally, she got to work on a crossover album that stood to make an even bigger star, but, tragically, her life was cut short on March 31, 1995—16 days before her 24th birthday—when she was shot dead by Yolanda Saldivar. When Dreaming of You was released four months later atop, debuting atop the Billboard 200, it was clear that her influence would live on. Aside from cracking open the door for further Latinx artists to crossover into the mainstream, white-dominated markets, Selena went on to become one of the best-selling female Latinx artists in history with over 65 million albums sold worldwide.
Christmas Queen
Three albums deep into an already superstar career, Mariah Carey had to be convinced to record an album of Christmas music as her next release. And thank Santa she agreed to do it. Released on October 28, 1994, Merry Christmas has gone on to become one of the modern era's best-selling and most enduring holiday releases, with lead single "All I Want for Christmas Is You" earning itself a spot in the Christmas canon. The power of the track is such that over two decades after its release, it returns to the Billboard Hot 100 yearly and topped the chart for its 25th anniversary.
Girl Power
After answering an advertisement placed in a British trade magazine, five women—Geri Halliwell, Victoria Beckham, Melanie Chisholm, Emma Bunton and Melanie Brown—were introduced to the world as the Spice Girls in 1996 with their debut single "Wannabe." The popularity of their "girl power" message and slickly crafted pop songs would turn the group into one of the most successful marketing engines in music history, helping usher in the "second wave" British Invasion of the U.S. Their only two albums released as a quintet—'96's Spice and '97's Spiceworld—still stand as the best-selling and third best-selling albums by a female group in history. The meteoric ascent, which included plentiful merchandising and one camp classic film, would come crashing back to Earth when Halliwell opted to go solo in '98, but our fascination with the group would live on and allow for not one, but two reunion tours in recent years.
Getty Images; Shutterstock
Bubblegum Bounces Back
Thanks to outliers like the Spice Girls and Hanson, pure pop began to seep back into popularity in the mid-'90s, despite the enduring power of rap and alt-rock. But it wasn't until 1999 when the genre took the industry back over in full force with the arrivals of NSYNC, Britney Spears, Christina Aguilera, the Backstreet Boys, Jessica Simpson, Mandy Moore and more. Most of the pop music released within the last 20 years can be traced back to this defining year.
Pop en Español
After Selena paved the way, 1999 also saw the emergence of a group of Latinx artists who crossed over into the English-language market. Not only did Jennifer Lopez begin her iconic music career with the release of On the 6, but Ricky Martin, Enrique Iglesias and her future ex-hubby Marc Anthony would all release crossover albums. While they'd all have to sing in English to gain traction, it's here than the ground was laid for future acts like J. Balvin, Bad Bunny, Rosalia and others—Latinx artists who've been able to find recent superstardom while still singing in Spanish.
The Birth of Coachella
While there had been music festivals before—Woodstock, Lilith Fair and Lollapalooza are but a few—when Paul Tollett and Rick Van Santen mounted a two-day festival in Indio, Calif. in October 1999, the inaugural Coachella Valley Music and Arts Festival would birth the modern-day festival culture. Over the years, the festival has grown exponentially, almost bordering on parody of itself, while being home to some of truly incredible music moments. Tupac hologram, anyone?!
Digital Get Down
The digital age came for the music industry in 1999 when founders Shawn Fanning and Sean Parker launched Napster, a peer-to-peer file sharing software that allowed users to illegally transfer MP3 files of songs to one another. While the program and the copycats like LimeWire and Kazaa that cropped up in its wake were all eventually shut down, the idea that one didn't have to buy an entire album to own the music they loved ingrained itself so deeply into the culture that you can draw a straight line from Napster to the digital marketplaces like the iTunes store to streaming services like Spotify. While this was good news for the listener, now granted an unprecedented amount of control over how they consumed music, it's had an increasingly destabilizing effect on the industry, hurting the artists those listeners love in the process.
Dana Edelson/NBCU Photo Bank/NBCUniversal via Getty Images via Getty Images
The Real Slim Shady
After an independently recorded album and EP got him signed to Dr. Dre's Aftermath Records in the late '90s, Eminem (aka Marshall Mathers) achieved mainsteam popularity with the release of The Slim Shady LP in 1999. Through all the success—of which there's been plenty—the stardom has remained, well, complicated. Not only has the lyrical content been both deeply misogynistic and homophobic, but the idea that it took a white man to make a genre of music not just palatable, but attractive to middle America raises questions of cultural appropriation reminiscent of Elvis Presley's history with rock-and-roll.
Kevin Winter/ImageDirect/Getty Images
This…is American Idol
When Simon Fuller and Simon Cowell wanted to bring the popular British show Pop Idol Stateside in the early '00s, the televised singing talent competition had long been out of vogue. But Fox was brave enough to take the bait, debuting American Idol in the summer of 2002. The show was an instant success, allowing for talented singers who might not otherwise have ever been discovered to earn their introduction to the American audience. While the show's ability to launch true stars has waned over the years, without it, we'd probably never have known the names Kelly Clarkson, Carrie Underwood, Jennifer Hudson or Adam Lambert.
Lester Cohen/WireImage.com
Country vs. Its Chicks
After achieving mainstream success in the late '90s as a trio comprised of Natalie Maines and sisters Emily Strayer and Martie Maguire thanks to enduring hits like "Cowboy Take Me Away," "Goodbye Earl, and "Wide Open Spaces," The Dixie Chicks earned the ire of the country music establishment in 2003 when Maines told a crowd overseas that the group didn't support the upcoming invasion of Iraq and were "ashamed" President George W. Bush was from Texas. Fans destroyed their CDs and radio banned them, but they refused to back down or apologize for their statements, culminating in the 2007 release of the Album of the Year Grammy-winning Taking the Long Way and its powerful lead single, "Not Ready to Make Nice." The LP would be the group's last for 14 years. Newly rechristened The Chicks, the trio will release Gaslighter on July 17, 2020.
Michael Caulfield/WireImage.com
Rap Meets Oscar
While Eminem's Best Original Song win for "Lose Yourself" at the 2002 Academy Awards was the first rap song to take home the Oscar, the genre was further legitimized by the Academy four years later when Three 6 Mafia became the first hip-hop artists to ever perform at the ceremony with a performance of their track "It's Hard out Here for a Pimp" from Hustle & Flow. Their night only got better when they were announced as winners in their category.
The Rise of the Female MC
While females in rap weren't new, with pioneers like MC Lyte, Queen Latifah, Salt-n-Pepa and others making inroads in the male-dominated genre in the late '80s, it was the late '90s arrival of artists like Foxy Brown, Missy Elliott, Eve and Lil' Kim that proved the women could come just as hard as or even harder than the dudes. It's on the backs of these women that Nicki Minaj could ascend to her throne, Cardi B could challenge her, Megan Thee Stallion could introduce "hot girl summer," and so on.
Rihanna's Rain
Over the course of her first two albums, 2005's Music of the Sun and 2006's A Girl like Me, Rihanna's Caribbean-influenced pop showed potential, hinting at a superstar laying in wake. And that promise was realized when the Barbadian beauty released "Umbrella," the chart-topping lead single off her 2007 album Good Girl Gone Bad. The track, which teamed her with Def Jam boss Jay Z, catapulted her to the upper echelons of fame that few reach, earning her first Grammy win in the process. As anyone who was alive that year could tell you, it was the song of the summer.
Rick Kern/Getty Images for Samsung
Yeezy
It's hard to overstate just how important Kanye West's arrival on the scene in the early 2000s—first as a producer for Roc-A-Fella Records and then as an artist in his own right beginning with College Dropout in 2004—has been for the music industry. From his endlessly experimental—and oft imitated—production approach to his inventive wordplay, Ye's impact can be felt everywhere you look in modern music. Love him or hate him—and he's certainly provided plenty of material for some to land in the latter category—his career is singular in nature. Just try and imagine the last 15 years without him.
Pop Goes Gaga
It was clear from the jump that Lady Gaga wasn't your typical pop star, but it wasn't until she released the epic music video for "Bad Romance," the lead single off the 2009 EP The Fame Monster, that the idea of pop music as art project crystallized into full view. The five-minute clip was just the right kind of bonkers, presaging a career that would push the genre to its limits. From there we got the Warholian excesses of "Telephone," the affirming and anthemic "Born This Way," the gender-bending of "You and I"—the list goes on. Until she came back down to Earth on her own accord for 2016's Joanne, Gaga pushed the limits everywhere she went, propelling the likes of Kesha, Katy Perry and even Nicki Minaj to play with fashion and character the way she did in the hopes they might be able to keep up. What a weird and wonderful time it was.
Marc Grimwade/WireImage.com
Bieber Fever
Perhaps our first pop star definitively discovered on YouTube, when Justin Bieber exploded on the scene in 2009 at just 15, it was unlike anything the music industry had seen for some time. A teen idol in the time of smart phones, the fandom that erupted around the Canadian crooner as he released album after album throughout the early '10s would ultimately prove too much for any one burgeoning man to bear, but before he began to buckle under the pressure, those screams that accompanied him wherever he went sure were something.
The Toronto Sound
Before his arrival in 2010, the only people who knew who Drake was were fans of Degrassi. And even then, they only knew him as Aubrey Graham. But with debut album Thank Me Later, he was suddenly the biggest name in rap. And the Toronto native, alongside his longtime producer and collaborator Noah "40" Shebib, quickly popularized the Toronto sound—hip-hop-meets-R&B and pop for a for languid, grandiose feel—that's essentially consumed the rap world for the last decade. Just listen to practically anyone else on SoundCloud.
Bey's Digital Drop
She was already one of the biggest superstars in the music biz thanks to her early days in Destiny's Child and her first four wildly successful solo albums, but when Beyoncé went and dropped an entire self-titled "visual album" with zero fanfare or promotion on December 13, 2013, she literally changed the game. Not only had she somehow produced an entire album and every single corresponding music video in the tightest of secrecy, but she forced the industry to adopt Friday as its new release day and kickstarted a trend of surprise drops that would be attempted by the likes of Kanye West, Eminem, Drake and others. A literal queen.
Click Here to Visit Orignal Source of Article https://www.eonline.com/news/1165706/celebrate-the-last-30-years-of-music-with-these-unforgettable-moments?cmpid=rss-000000-rssfeed-365-topstories&utm_source=eonline&utm_medium=rssfeeds&utm_campaign=rss_topstories