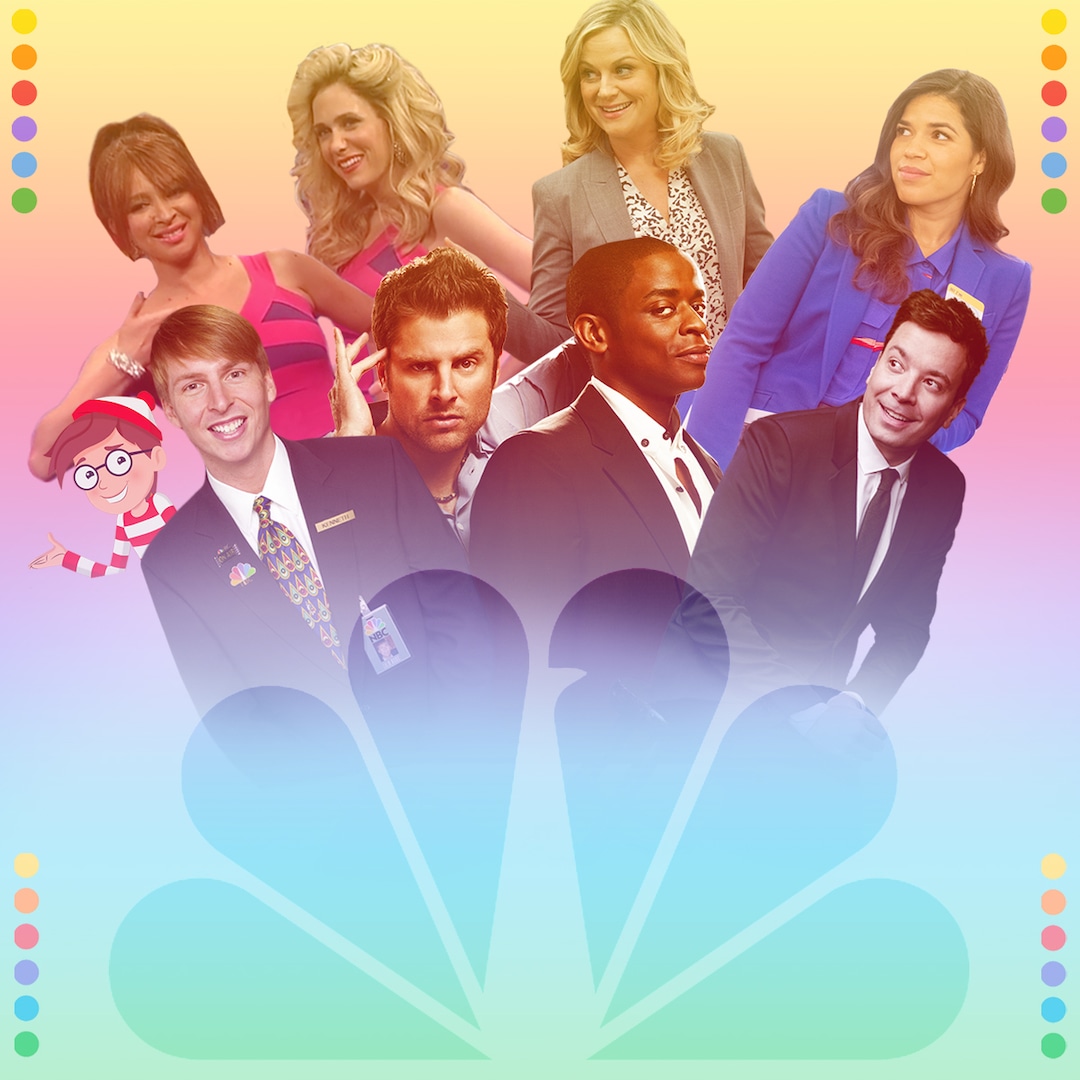 The best part is that the below shows are just the beginning, as Peacock will continually be adding new shows to its programming, such as Tina Fey's girl-group comedy Girls5Eva and Mindy Kaling's Expecting, surrounding a woman who asks her BFF to become her sperm donor.
Check out all the exciting shows that you can expect to see hatching on Peacock below!
Parks and Recreation
This iconic comedy show follows the Parks and Recreation department in Pawnee, Indiana, led by the ambitious Leslie Knope (Amy Poehler) who is constantly trying to inspire her co-workers (played by Aziz Ansari, Nick Offerman, Retta, Jim O'Heir and Aubrey Plaza) and deal with the city's insane residents.
The series also stars Rashida Jones, Chris Pratt, Adam Scott and Rob Lowe to round out one of television's most lovable casts.
Heroes
30 Rock
Liz Lemon (Tina Fey), who head's up a SNL-style sketch show airing on a fictionalized version of NBC, struggles to rein in the chaos and egos of her lazy writers and vain actors as her new boss, played by Alec Baldwin, constantly introduces new changes to her series.
The star-studded cast also includes Tracy Morgan, Jane Krakowski, Jack McBrayer and more, and the show constantly features A-list guest stars including Jon Hamm, Matt Damon and Will Artnett.
Paramount Photo/Gale Adler/NBC
Frasier
After you binge all of Cheers, have no fear because you can then watch its critically acclaimed spin-off, Frasier!
The Kelsey Grammer-led series follows his character, Dr. Frasier Crane, as he moves to Seattle to take care of his dad and host a radio show. The hilarious series went on to amass a whopping 318 nominations across various award shows and notably won 37 Emmys and two Golden Globes trophies by the end of its run.
Cam McLeod/Paramount Network
Yellowstone
Kevin Costner leads in this critically acclaimed drama series that invokes a modern Western feeling. Costner stars as Josh Dutton, the owner of the largest contiguous ranch in the country, and surrounds his conflict with the corruption in local government and issues with his property bordering an Indian reservation, the United States' largest national park and a rapidly expanding town.
Two and a Half Men
This cheeky series follows Charlie Harper (Charlie Sheen), a playboy, and his brother Alan (Jon Cryer), an uptight chiropractor, as they start living together and managing their opposing lifestyles as well as hilariously interacting with Alan's kid, Jake, and Charlie's housekeeper, Berta.
Intelligence
Intelligence is a workplace comedy set in the UK's Government Communications Headquarters—a kind of weedier, geekier, more bureaucratic version of MI5 and MI6, where they tackle international and domestic Cyber Crime from a desktop. When a pompous maverick NSA agent Jerry Bernstein (David Schwimmer, American Crime Story, Friends, Band of Brothers) comes over from the U.S. to join the team, he enlists an inept and tactless computer analyst Joseph (Nick Mohammed, The Martian, Ted Lasso, Christopher Robin) in a power grab that threatens to disrupt the team's ability to combat cyber terrorism.
Cleopatra in Space
Cleopatra in Space​ is a comedic adventure focusing on the untold story of Cleopatra's teenage years. Viewers can follow Cleo (Lilimar Hernandez, Bella and the Bulldogs, Knight Squad) as she is transported 30,000 years into the future, to an Egyptian-themed planet that is ruled by talking cats and where she discovers she is the prophesied savior of the future world. In order to prepare for her role and mission, Cleo is sent to an elite academy where she has to train to take on the bad guys, figure out how to eventually get herself back home to Egypt, as well as tackling the highs and lows of being a teenager in high school.
Saturday Night Live
The long-running, Emmy-award winning comedy series will be coming to Peacock where you can relive the show's best characters, sketches, impressions and more. With a show whose alumni include Kristen Wiig, Maya Rudolph, Will Ferrell, Tina Fey, Amy Poehler, Bill Hader and too many more to name, you know you're always in for a good time no matter what season you revisit.
Friday Night Lights
Clear eyes, full hearts, can't lose: This small-town drama follows the inspirational Coach Taylor (Kyle Chandler) who balances his personal life with managing a football team in a place where winning the state championship is everything. Connie Britton, Taylor Kitsch, Minka Kelly, Jesse Plemons and more also star.
Will & Grace
Rewatch the sitcom classic where Will and Grace, two neurotic professionals who are also besties, live together in a New York City apartment with their friends Karen and Jack, whose personalities are a total handful.
Brave New World
Based on Aldous Huxley's groundbreaking novel, Brave New World imagines a utopian society that has achieved peace and stability through the prohibition of monogamy, privacy, money, family, and history itself. As citizens of New London, Bernard Marx (Harry Lloyd, Game of Thrones, The Theory of Everything) and Lenina Crowne (Jessica Brown Findlay, Winter's Tale, Downton Abbey) embark on a vacation to the Savage Lands, where they become embroiled in a harrowing and violent rebellion. Bernard and Lenina are rescued by John the Savage (Alden Ehrenreich, Solo: A Star Wars Story, Hail, Caesar!), who escapes with them back to New London. John's arrival in the New World soon threatens to disrupt its utopian harmony, leaving Bernard and Lenina to grapple with the repercussions.
Brave New World also stars Demi Moore, Kylie Bunbury, Hannah John-Kamen, Sen Mitsuji, Joseph Morgan and Nina Sosanya.
Manifest
This thrilling sci-fi mystery show follows Michaela (Melissa Roxburgh) and Ben (Josh Dallas) who learn after their turbulent flight lands that their plane has been missing for more than five years, and everyone on it was presumed to be dead.
As they try to put together the pieces of the life that went on without them, they also experience surreal events that suggest that the mystery doesn't just end with their flight.
Lost Speedways
Created and hosted by Dale Earnhardt Jr. (Dale Jr. Download), this series is an exploratory look at great racing cathedrals of the past. Dale Jr. and co-host Matthew Dillner (Dale Jr. Download) tells the stories of speedways that have been forgotten, abandoned, and overtaken by nature. Racing legends join as guests throughout the series.
Curious George
First introduced to the world of children's literacy over 75 years ago, Curious George® was created by Margret and H.A. Rey in 1941 and remains one of the most beloved children's classics of all-time. The animated series targets preschool viewers and follows the adventures of everyone's favorite monkey and his insatiable curiosity to bring delightful antics, gentle humor and heartfelt emotion to each fun-filled episode. With a focus on education, the Emmy® award-winning program incorporates early concepts in math, science, technology and engineering and encourages children to use their imagination and expand their own investigations of the world.
The Curious George voice cast includes Emmy® award winner Frank Welker (Scooby Doo and Guess Who?), Jeff Bennett (The Loud House) and Rino Romano (Spaceballs: The Animated Series).
Very Cavallari
Look into Kristin Cavallari's life as she manages her friendships, relationship with her now ex-husband Jay Cutler and her business after we saw her grow up on Laguna Beach.
Southern Charm
Welcome to the world of South Carolina's exclusive social scene, full of scandals, money and social hierarchy. In this Bravo show, several families let you into their lives and all the excitement and drama that comes with it.
Botched
Step into the operating room of renowned plastic surgeons Dr. Paul Nassif and Dr. Terry Dubrow as they help patients of surgeries gone wrong fix their botched jobs for desired results.
Snapped
What causes someone to snap and kill another person? That is the central question of this Oxygen crime series, that explores what drove some individuals to crime.
EJ Camp/Oxygen Media/NBCU Photo Bank
Bad Girls Club
A group of self-proclaimed "bad girls" live under one luxurious roof together in this show by the same production team that brought you The Real World.
Justin Lubin/Walt Disney Television via Getty Images
George Lopez
George Lopez stars as a fictionalized version of himself in this family fun multi-cam sitcom.
The Johnny Carson Show
Turn back time and rewatch Johnny Carson's 30-year run as a late night host, where he interviewed beloved stars like Steve Martin and the late Robin Williams.
Walt Disney Television via Getty Images
The Carol Burnett Show
Relive Carol Burnett's iconic sketch show, or experience it for the very first time, when the legendary series comes to Peacock. The show won a whopping 25 Emmys during its run, and has consistently been named one of the best shows of all time by publications like Time and TV Guide.
La Doña
Trigger warning: This show features plots that include sexual assault.
La Doña centers around Altagracia, a woman whose parents were killed by a group of men who also raped her, and she won't rest until she finds every last one of them. Following her assault, Aaltagracia also had a daughter, Monica, and conflict arises as both women unknowingly fall in love with the same man, who also is working to help Altagracia get her revenge.
To continue to see the full list, check out the link below.
(E!, NBC, Bravo, Oxygen and USA are all a part of the NBCUniversal family.)
Click Here to Visit Orignal Source of Article https://www.eonline.com/news/1164261/every-tv-show-coming-to-peacock-nbcu-s-streaming-service?cmpid=rss-000000-rssfeed-365-topstories&utm_source=eonline&utm_medium=rssfeeds&utm_campaign=rss_topstories